Some Top Prices: Getz, Jackie, et al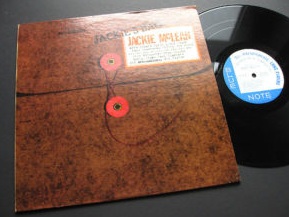 Hmm, prices seem on the rise again. Here are some records we've been watching this week:
Sonny Clark, Dial S For Sonny, Blue Note 1570. This was the one listed as Sonny Clarke. The record and cover were in VG++ condition and it seemed to be an original pressing. The price was $1,413.
There was also this: Stan Getz Plays, Norgran  1042. This was in M- condition for the vinyl and VG++ for the cover. The seller was Euclid Records. The price was $432. We thought this might be the highest price we've ever recorded in the Jazz Collector Price Guide for any Getz record, but, surprise, a copy of this same record in M- condition once sold for more than $700. Still, $432 is a pretty high price for this record. Do you think that our coverage here at Jazz Collector, and the clip we played, had anything to do with the bidding?
This is the highest price we've ever recorded for this LP: Jackie McLean, Jackie's Bag, Blue Note 4051. This one was in M- condition and sold for $702.
This one would have made the $1,000 bin, but it didn't meet the seller's reserve price:
Johnny Griffin, The Congregation, Blue Note 1580. This one seemed to be in VG++ to M- condition. The top bid was $1,026, but it did not sell.