Oct 16, 2009 Blue Note, Jazz Vinyl, Jazz Vinyl on eBay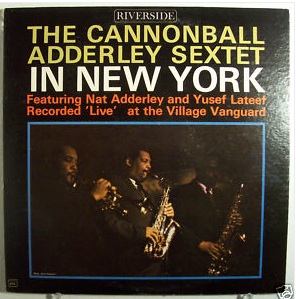 Here is some of the jazz vinyl we'll be watching this weekend on eBay.
Sonny Clark, Sonny's Crib, Blue Note 1576. This is an original pressing. The record is listed in VG+ condition and the cover is listed as VG++. Seems to be a nice copy. The current price is $385 with one more day to go.
The seller bobdjukic is back with a few items this weekend. I don't know this seller, but he seems to be a bit unpopular among some of the visitors to Jazz Collector. I've censored a few comments about him because, as I've said, I don't really want this site to be a forum to air complaints about individual buyers and sellers. But, having said that, there have been a few complaints. In any case, he seems to have some kind of magic system for getting great prices on his records and in getting high viewership. Here's one of his records this weekend: The Cannonball Adderley Sextet In New York, Riverside 404. This is a
nice record and the vinyl is M- and the cover is VG++. The current price is about $55. Not Blue Note numbers to be sure, but more than this record typically gets. I'm curious to see what price it eventually goes for. If you look at the seller's other items, there's a Miles Davis, Birth of the Cool, Capital 762 that is already at more than $230 with more than 100 page views.
Here's one you usually don't think of as a collectible: Dave Brubeck Time Out, Columbia 8192. This is a stereo pressing with the 6-eye label. It has the white promo label, which would seem to make it fairly rare and hard to find. The vinyl on this one is in M- condition and the cover is VG++. The current price is $50. We'll see if this one makes it to the Jazz Collector Price Guide.
Tags: Cannonball Adderley, Capitol Records, Columbia Records, Dave Brubeck, Miles Davis, Sonny Clark