Time for Another Free Record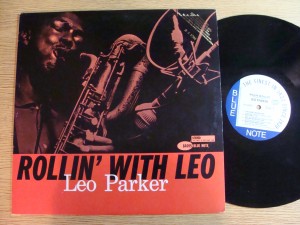 Okay, here we go again. So far we've given away three free records and now it's time for number four: Leo Parker, Rollin' With Leo, Blue Note BST 84095. This one actually has a little bit more credibility as a collectible than our previous giveaways. This is the 1986 release of this LP, which was the first time it was released with the cover art and catalog number that was originally intended by Blue Note in 1962. What's more, this is a promo copy, with a promo stamp on the cover. The record is in VG+ condition and the cover is M- and it's being offered free to one lucky reader of Jazz Collector. As before, the rules for entering this contest are very simple: All you have to do to be eligible to win the record is to post a comment on the Jazz Collector site any time between now and when the contest ends, which is the end of day February 26.  You can post a comment on this post or anywhere else on the site and we'll enter you into the drawing. If you win the record we even pay for shipping, anywhere in the world. This is a very nice record, worth having for sure. In addition to Parker, it features Dave Burns, Bill Swindell, Johnny Acea, Stan Conover, Bill Lucas, Purnell Rice and Wilbert Hogan.
Speaking of Leo Parker, someone recently sent us a link to this eBay auction:
The Parkers, Savoy 952. This is a 3-record 78-boxed set featuring both Charlie Parker and Leo Parker. I don't usually look at 78s on eBay, but this is a nice one. The records and cover seemed to be in VG+/VG++ condition. It sold for $112.50.