May 18, 2010 Blue Note, Jazz Vinyl, Jazz Vinyl on eBay, Norgran, Prestige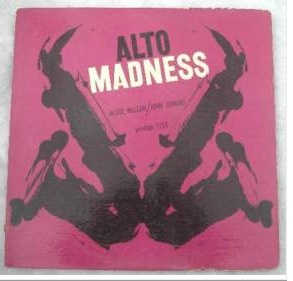 These records all have one thing in common: I bid on them and lost:
I thought I could sneak this one in because the picture accompanying the listing wasn't clear and perhaps that would turn people off: Alto Madness,  Prestige 7114. This features John Jenkins and Jackie McLean and I do not own an original copy. It was not getting a lot of action and I threw in a bit of about $130. Not even close. In the end there were 13 bids and the winning bid was $405.
Louis Smith, Smithville, Blue Note 1594. I mentioned this one yesterday and posted the picture. For some reason, this record was not getting much action. With several hours to go before it closed it was in the $100 range. I thought perhaps the listing wasn't clear as far as the condition and there was something in the listing about price guides and $100. Anyway, there was light action, so I used by BidNip sniping service — if you bid on eBay you really should be using one of this — and put in a bid of about $360. Well it sold for $811, so I wasn't even in the game.
I tried to sneak this one in at about $20: Frank Rosolino, I Play Trombone, Bethlehem 26. The vinyl was only VG, but it had a nice cover and the seller didn't mention the presence of Sonny Clark
on piano, so I thought maybe . . . I just missed and it sold for $22.72.
This one I thought I would get, for sure: Stan Getz, Interpretations #3, Norgran 1029. The seller didn't know what he was doing, admittedly, and I had a strong feeling he was undergrading the records. The picture looked great, which is not always a true indication, I know. But if you take a look at it, you'll see what I mean. Anyway, I bid $44.44 and it sold for $45.44, so I didn't get it. I have a feeling the winning bidder will be quite pleased.
This is another one where I don't own an original copy and it would be a good one to help round out my Blue Note 1500 series: The Magnificent Thad Jones Volume 3, Blue Note 1546. This was in pretty good shape, probably VG+, and I threw in a bid of $155.55. It sold for $158.05. Close again, but not quite.
This one had no photo and the cover was described as "good." I thought I could add it as filler for my collection, again, filling in some of the Blue Note 1500 series: The Magnificent Thad Jones, Blue Note 1527. Boy was I wrong. I thought I could get this cheap, like under $100. No way. It sold for $500.
Tags: Frank Rosolino, Jackie McLean, John Jenkins, Louis Smith, Sonny Clark, Stan Getz, Thad Jones