Today on Ebay: Freddie Redd, Kenny Drew, Trane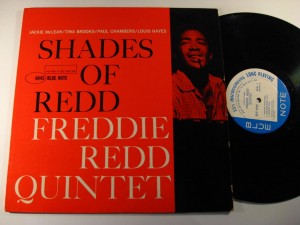 Here are some of the items we're watching today on eBay. Things still seem slow, and it will be interesting to keep an eye on the prices of some of these.
Freddie Redd, Shades of Redd, Blue Note 4045. This is an original West 63rd Street pressing. The record and cover are both in VG+ condition. The current price is about $230. In the Jazz Collector Price Guide, we've seen this record sell for between $300 and $900 depending upon the condition. It's a great record if you're not familiar with it, featuring Tina Brooks and Jackie McLean.
John Coltrane, Hank Mobley, Zoot Sims and Al Cohn, Tenor Conclave, Prestige 7074. This is an original New York pressing with the yellow label. The record and cover both look to be in VG+ condition. The current price on this is $74. 
This one is not in great condition, but it's one of the more collectible Blue Notes and usually goes for a decent price, regardless of condition: Kenny Drew, Undercurrent, Blue Note 4059. This is a West 63rd Street pressing with one sided deep groove, which, if I recall correctly, is the original pressing for this — for some reason it only had one side as a deep groove. This one is in VG- condition, both record and cover, and is currently at about $60. Because of the rarity of this record, I would still expect it to sell for more than $100 even in this condition.