Tracking Some Nice 10-inch Jazz Vinyl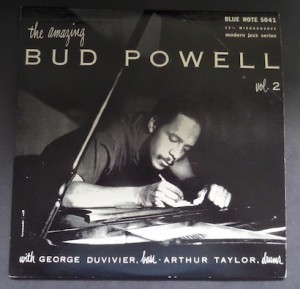 I happened to notice some nice 10-inch jazz vinyl on eBay this morning, so let's start today's post with The Amazing Bud Powell Volume 2, Blue Note 5041. This is an original 10-inch pressing that looks to be in M- condition, although the seller is not a record person and didn't actually attempt to grade it. It looks quite lovely in the pictures, and that is definitely one of my favorite Blue Note covers. The bidding is now in the range of $235 with more than two days left and I would expect this LP to sell for quite a bit more. The seller has several other nice 10-inch LPs for sale, including Horace Silver Quintet, Blue Note 5062. This is also an original pressing, and the description is similar to the Powell record, no actual grading, but an implication that this one is also in M- condition for the record and the cover. The current price is around $125.
While we're on the subject of 10-inch Blue Notes, there is also:
Kenny Dorham, Afro-Cuban, Blue Note 5065. This is an original Lexington Avenue pressing. The cover is listed as VG condition with stains that are very visible in the photos. VG might be a stretch. The vinyl is graded as VG+/VG++, but I'd assume VG+ was probably accurate. There are more than four days to go and the bidding is in the $100 range.
This one comes from my friend Steve at Round Again Records in Providence: Lee Konitz at Storyville, STLP 304. This is a 10-inch pressing listed in VG+ condition for both the record and the cover. The auction is closing in a couple of hours and the bidding is in the $100 range. Round Again is one of the nice brick and mortar stores and you should pay a visit if you're in the Providence area. I used to drop by a lot when my son was in college and grad school there, but it's been five years since he graduated and I don't get there nearly as often as I used to. I remember always walking out of that store with something good.