Two Blue Notes and a Dash of Pepper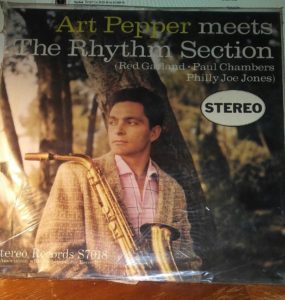 The seller bluenote5 has some interesting and high priced records on eBay now including this one: Art Pepper Meets the Rhythm Section, Stereo Records 7018. So this is not the Contemporary version and it has the original loose plastic seal with a promotional card for the label inside. The seal is unbroken, so the record is in new condition and the cover is probably close to that as well. Here's the conundrum with this record: When it was first issued on Contemporary it was 1957 and the labels weren't producing stereo copies yet, at least not to my knowledge. This was probably the first Stereo release of this record, so in that way it is an original. But it was also probably released at least a couple of years after the original mono recording. You can see in the listing that it doesn't have the red and blue writing on the back that would make it an original on the Contemporary label. I'm sure this copy is extraordinarily rare and nearly impossible to find sealed like this. As for me, Id rather have the Contemporary. BTW, my copy of this record was from the Bruce M. West collection in Baltimore and it also had the loose polybag cover the cover with the Contemporary promotional card inside. I removed the cover — after all, it was almost 60 years old and quite filthy — but I keep the promotional card inside. It was quite cool to see it in this condition, as if it were sitting on the shelf of a record store in 1957 The start price on the sealed Stereo version in this listing is $1,00. So far there are no bidders.  
From the same seller are these two Blue Note beauties:
The Magnificent Thad Jones, Blue Note 1527. This is an original Lexington Avenue pressing listed in M- condition for the record and Ex+ for the cover. This one also has a start price of $1,500 with no bidders yet.
Lee Morgan, Volume 3, Blue Note 1557. This is an original pressing with the New York 23 label. The record is in VG++ condition and the cover is VG+. Also $1,500, also no bidders. Although there are no bidders, my exception is that all three of these records will sell. The auctions close tomorrow. We'll see.
At your various recommendations on the previous post, I've also spent some timing looking at the auctions from vinyl-house-uk. Some very interesting stuff, including this Informal Jazz cover, which I've never seen before and love. I'll have more on this tomorrow, since most of the auctions don't close for another five days or so.