Under-The-Radar Jazz Vinyl Collectibles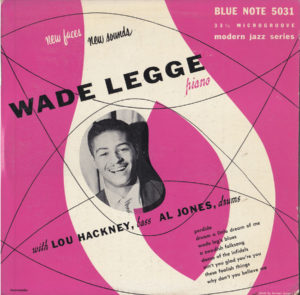 Here's one you don't see very often. In fact, I don't recall every writing about this record before: Wade Legge, New Faces, New Sounds, Blue Note 5031. This is an original Lexington Avenue 10-inch pressing. The record and cover are both listed in Ex condition by a very reputable seller. The bidding is in the $280 range with about four days left on the auction. Wade Legge was not recorded very often and died young, at just 29 years of age. I just did a Google search and, it turns out, with shared the same birthday. I am a big fan of his playing on a couple of Sonny Rollins albums, Rollins Plays for Bird and Sonny Boy.  I didn't recall that he was on the Charles Mingus Tonight at Noon Album, so I will have to go back and listen to that, as well as a couple of others. I highly doubt that I will be getting the 10-inch Blue Note record anytime soon, given that I never see it and typically avoid paying top dollar on eBay.
This is also one I don't see very often, but I've never viewed it as a record that was particularly favored by collectors:
Art Blakey and the Jazz Messengers, A Night in Tunisia, Via 1115. This looks to be an original deep-groove mono pressing, listed in excellent condition for both the record and the cover. It has interesting personnel, with Johnny Griffin and Bill Hardman, not a very often-recorded group of Messengers. And it includes Jackie McLean under the pseudonym "Ferris Benda," apparently to avoid contractual conflicts. This is another one I will have to listen to, since I've owned it for years and probably put it on the turntable maybe once when I first obtained it. Anyway, this copy is in the $160 range, which seems high for a non-Blue Note Blakey. A quick search on Popsike seems to indicate that a price this high will be an aberration or perhaps just a new level for this record. It's probably great, right?