Watching Some All Star Jazz Vinyl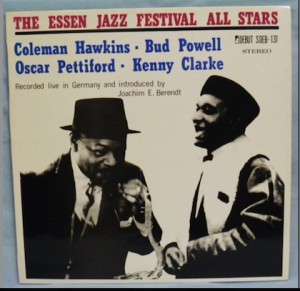 Here's a nice one that I don't recall seeing in the past: The Essen Jazz Festival All Stars, Debut 131. This record features Coleman Hawkins, Bud Powell, Oscar Pettiford and Kenny Clarke. I've always known this by the Fantasy issue in the U.S., which, if I recall, was colored vinyl in the original pressing. This looks to be the original Dutch Debut pressing, which was in stereo? Not familiar with it, although it is somewhat surprising that stereo would be the original release in 1960. Anyway, I like this cover a lot better than the U.S. cover. This copy is listed in M- condition for both the record and the cover and has a start price of $400 with nearly six days left on the auction.
I was surprised this one didn't sell: Art Taylor, Taylor's Wailers, Prestige 7117. This was an original New York yellow label that looked to be in VG+ condition for the record and probably VG+ for the cover as well. I think it was posted originally at $250 and failed to attract a bid. Now it is priced at $34.99. I think it will sell this time. I wrote about this record a few weeks ago. Terrific session and it usually sells for big bucks. The copy I was watching at the time fetched more than $715. This seller's rating is 98.3 percent. I wonder if that has anything to do with the minimal interest at the higher price tag. Based on the number of sales he has, that's only one complaint, so I'm not sure if that is the issue. The same seller has this record and is not getting any action either: Art Taylor, AT's Delight, Blue Note 4047. This also looks to be an original pressing with the West 63rd Street address and deep grooves. The record is described as M- and the cover is VG+. The start price is $450. If I didn't have a nice copy of this record (autographed), I'd potentially be in the hunt for this one.