What's A Signature Worth, And What If It's More Than Just An Autograph?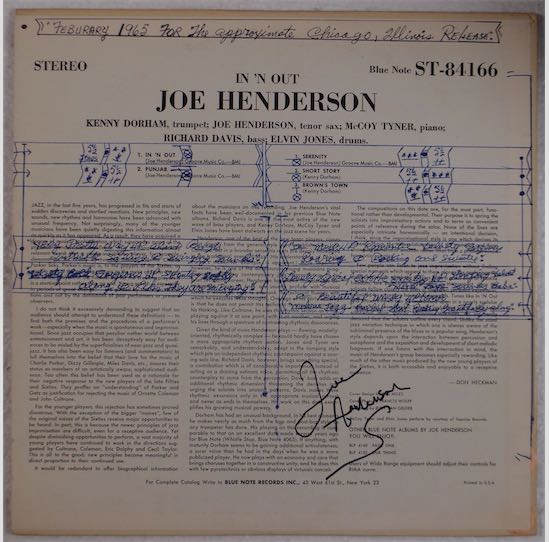 Here are a few odds and ends from the Jazz Collector in box. Mark sent us this link: Joe Henderson, In 'N Out, Blue Note 84166. The back cover is all messed up with writing all over it. Except, here's the explanation from Mark: "So the seller claims the notes and signature are by Joe..an inquiry made to the seller revealed that this album came from the collection of a fellow who booked shows for the Left Bank Jazz Society in Baltimore.  Apparently there were many signed albums in his collection along with a photograph of Monk and Wynton Kelly sitting on his own couch! Anyway..interesting piece…" I kind of have a soft spot for memorabilia such as this, although I don't actually collect it. The record and cover looked to be an original stereo pressing. The final price was $275. Not sure if the writing and signature ensured a higher price, or whether it actually diminished the price. I would guess a stereo copy would get less than $275, so someone probably through the writing was worth something. That's how I would view it.
There was also this signed record, noted by one of our readers:
The Magnificent Thad Jones, Blue Note 1527. This was an original Lexington Avenue pressing that seems to have Thad's signature on the upper back on the left. The record and cover were listed in Ex condition and the final price was $1,875.50. Again, not sure if the autograph had a positive or negative impact on the price.
Finally, my friend Jud weighs in with a huge batch of Mosaics that he is selling on eBay. You can check out the listings here. Lots of nice vinyl for auction or very reasonable buy-it-now prices. I still love the original vinyl Mosaics.