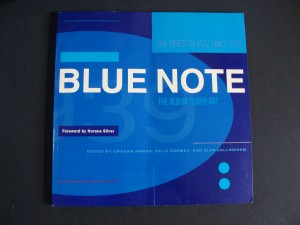 OK, we've been putting up some interesting posts, but we're not getting all that many comments these days, aside from Michel and Rudolf and a few of our other consistent (and always compelling) contributors. That means it must be time to give away another free collectible.
So, here it is, a new free giveaway contest from Jazz Collector, and it's a Blue Note (no not an original copy of Candy by Lee Morgan, or even a second pressing of Newk's Time by Sonny Rollins). It is (drum roll, please):
BLUE NOTE: THE ALBUM COVER ART
This is a 128-book of album cover art from the Blue Note catalogue, first published in 1991 by Chronicle Books. It features page after page of classic Blue Note covers from the 1950s and 1960s, featuring so many of the great designs by Reid Miles and photos by Francis Wolff. The book also includes a foreward by Horace Silver, which I will present in a separate post later in the week. 
Best of all, the book will be given away FREE to one lucky reader of Jazz Collector. To be eligible to win all you have to do is