Adventures in Jazz Collecting: The Auction, Part 5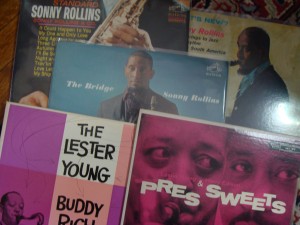 All right, let's do some more of this Jazz Auction stuff. So, by this point in the auction I have purchased eight lots and I am clearly on a roll and forgetting about the 17 percent surcharge and figuring, "What the heck, I'm already paying for shipping, let's buy some more records." And so I did.
Gerry Mulligan, Seven LPs. Price: $46.80. Why? There is no good answer to this question. I certainly have all of these LPs, and probably don't even want to keep all of these LPs, and there is probably not that much of a market for these LPs on eBay. The best of the records, from a collectible standpoint, is The Gerry Mulligan Songbook on World Pacific. There's also a nice Mulligan on Emarcy with Zoot Sims. There's a copy of Mulligan and Stan Getz on Verve, but it's an MGM pressing. Really, there was no rhyme or reason to bidding on these — and actually winning — other than the adrenaline rush of buying more records.
Sonny Rollins, Three RCA Victor LPs and Lester Young For LPs. Price: $93.60. This fits into
a similar category as the Gerry Mulligans in that I have all of these records and I'm not necessarily looking to have duplicates. I might do OK with these in eBay, however. There's an original mint copy of The Bridge, a mint unplayed copy of What's New and a mint, unplayed copy of The Standard Sonny Rollins. Each of these records has the original inner sleeve and none of them seems to have ever been handled at all. Recently a copy of the Bridge sold for $91 on eBay, as noted in the Jazz Collector Price Guide, so maybe If I sell this one I can recoup my investment. But it was another adrenaline-fueled purchase with little logic behind it. As for the Lester Young LPs, one of them — Pres and Sweets — is an original Verve Trumpeter, so that is quite nice. And the Lester Young with Buddy Rich is in beautiful condition and has a great cover, suitable for framing. So, not bad.
I had thought I would finish writing about this Jazz Adventure now, but I must move on to paying work, so I will complete this later today or tomorrow morning with a few more batches of records, including a very interesting package of 11 Bill Evans LPs. Stay tuned.