Gary Bartz, John Coltrane, Jazz At Lincoln Center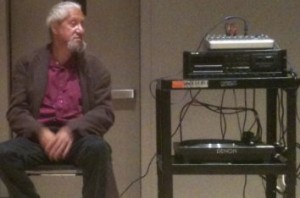 So the other day I'm sitting home working and I get a forwarded email from The Lovely Mrs. JC about a John Coltrane Festival taking place in New York between October 18 and November 3 and on that very night there will be something called a "listening party" with the saxophonist Gary Bartz and it is free and it is three subway stops away at Jazz At Lincoln Center at Columbus Circle. So I do a quick search on the Internet and it turns out that Bartz has a new album out called "Coltrane Rules: Tales of a Music Warrior," and at this listening party he will discuss the album and play some tracks. Now I am a big fan of Gary Bartz, ever since I saw him three nights running at Bradley's down on University Place at least 20 years ago and was blow away by his sensitive, passionate and inventive playing, the closest thing on alto to Sonny Rollins. So, I went down to Jazz at Lincoln Center and I went to the listening party and it was terrific. There were maybe 30 people in the place, a small studio with folding chairs, and at the front there were Bartz sitting on a chair with a couple of very sharp people from Jazz At Lincoln (I apologize for not getting their names), a table with a computer, a stack of stereo equipment and a couple of speakers. You can get a sense of the ambiance from the grainy picture I took on my iPhone. Bartz talked a lot about Trane and a lot about Rollins and a lot about his own career and it was all quite thoughtful and interesting. He played some snippets of songs and the whole thing lasted about an hour. I was enjoying myself and didn't take notes, but here are some of the highlights I remember:
On Meeting Trane: Bartz was 14 when he met Trane, who, along with Benny Golson, was working in Bull Moose Jackson's band in Baltimore. On Bull Moose — he was so ugly, but the women loved him, Bartz said, with a big laugh. He said Trane heard him play and was very encouraging, even though Bartz was young and not really playing anything too substantial yet. But he saw something in the young player and encouraged him and told him to look him up when he got to New York.
On Eric Dolphy: Bartz said he used to practice once a week with Eric Dolphy, which he said was a real treat. On the new album he plays a little bass clarinet, which he said he loved and which, of course, he acknowledged Dolphy's influence.
On Sonny Rollins: Bartz said whenever Sonny would do a gig, he would try to get down to see him whenever he could. The only other musician he treated with that kind of reverence was John Coltrane.
On Coltrane: He called Trane a "music warrior" and said he never stopped yearning to learn and practiced and played night and day. There were times he would be with Coltrane at his home and Coltrane would invite him to play or practice, but Bartz said he never did because he just wanted to listen and observe.
At the end there was a brief Q&A and I asked Bartz if he had any particular favorite Coltrane records. He thought for a few seconds and smiled and looked at me and the first record to come to mind was "Ballads" and I smiled back because I could relate and, even though it is not one of Trane's tour-de-force albums, "Ballads" is just a perfect record in so many ways and the timing of when it was released, in the midst of all the experimentations on Impulse, has always made it even that much more special for me. And then Bartz thought some more and smiled again and mentioned the Miles era, and the Impulse era, and at one point he mentioned "I Want to Talk About You," from the Prestige era, and he basically said there were so many periods to Coltrane's work and they were all great. And, again, I smiled back, because it is just so true and it's something we can all love and appreciate as fans, from a collector/amateur musician like me to a true great like Gary Bartz.