Jazz and the City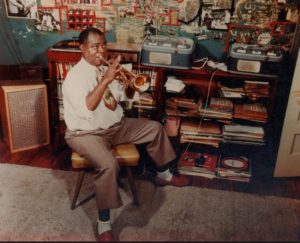 I've had several interesting jazz-related experiences over the past few weeks, but I've been so busy with my real work I haven't had a chance to share them with you. Until now.
Number One: I had cousins visiting from England. One of them had never been to New York before. He's a musician and wanted to see some music. It was a Monday night. Go to just about any city, and seeing good jazz on a Monday night would be a difficult proposition. But this was New York. There were many choices, but for me there was only one: The Vanguard, of course, with the Vanguard Jazz Orchestra, which is still the Thad Jones – Mel Lewis Orchestra to me. I hadn't been to the Vanguard on a Monday night in probably 10 years, which is kind of ridiculous when you think about it since it is only a 20-minute subway ride away from my apartment. Anyway, I went online for reservations and it was sold out. Same thing when I called. We went anyway, arriving early. And we got in. The band was in fine form. They had just finished doing their annual weekly gig at the Vanguard, and seemed particularly tight. The band's personnel has evolved over the years, but there were definitely a lot of familiar faces, including the tenor player Ralph LaLama, from whom I once took about four lessons 30 years ago. Somehow, I didn't think he'd remember me, at least not fondly, so I didn't actually say hello. But I thoroughly enjoyed the evening and would highly recommend a visit to the Vanguard, particularly on a Monday night, to anyone visiting New York. But, if you can, make reservations early. It seems to be a destination for jazz lovers from all around the world.
Number Two: Living in New York does give you a tremendous opportunity to have wonderful jazz experiences as regularly as you may desire. Case in point: The Jazz at Lincoln Center Orchestra. They do regular concerts, often with a theme. In January the theme was a celebration of Dizzy Gillespie and, when I saw that, I said to The Lovely Mrs. JC: "We're going." It was an added bonus that the music director for the evening was Vincent Gardner, whom I admire tremendously as a musician and historian of the music. The fact that he is an occasional reader of Jazz Collector only adds to his brilliance, IMHO. Anyway, it was a terrific concert. Dizzy's music is not easy, particularly for casual listeners of jazz. What I liked about the concert is that they didn't pander, they attacked it head-on, featuring several Tadd Dameron tunes and arrangements and not doing some of the obvious crowd-pleasing stuff such as Manteca. I highly recommend seeing the JALC Orchestra whenever you can. They are among the top musicians in the world and their concerts are always interesting.
Number Three: For me, this was the highlight. Same cousins from England. They asked me to plan a half day. I offered some standard New York fare: Coney Island, Ground Zero, Museum of Natural History. They asked: Is there something you've never done that you've always wanted to do? I thought for a moment. Actually, yes. I had never been to the Louis Armstrong House Museum in Corona. So we went. For those of you who have never been: GO! This is an awesome experience for jazz lovers. It is the house where Louis and his fourth and final wife Lucille lived from 1943 until Louis died in 1971 (Lucille continued living there after Louis died). It is pretty much exactly as they lived there and left it. The museum tour is great, with audio clips of Louis talking, singing and playing inside the house. And just being in Louis' study, where he had his music, it was hard not to feel his presence. I could feel the goose bumps up and down my arms. The tour is only an hour, but it is really fantastic and very enlightening. I can't wait to go back.