Free Duke Jazz Vinyl: The Winner Is . . .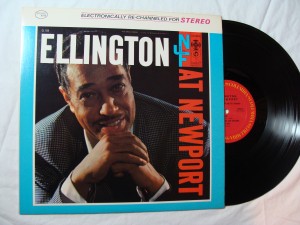 I was so busy having my Blue Note existential crisis last week I forgot to end the contest for the latest giveaway: Duke Ellington, Ellington at Newport, Columbia 8648. This is not an original pressing but is a later stereo issue that's in near mint, unplayed condition. As always with our giveaways we have one copy that will go to a Jazz Collector reader who has commented on the site during the contest's duration. This week we have a lot of newcomers to the competition, which is great. Traffic has been building pretty steadily on the site and we are now able to tally our monthly page views in the tens of thousands, believe it or not. In any case, those eligible for the Duke LP are:
Rudolf, Michel, DaveS, Max, Ceedee, Aaron, Japhy, Don-Lucky, Gregorious, RL1856, Don Robinson, GW, Brian, Geraint, Jack, Jan, Joaquim, Baz, Jason, Michael Peoples, Bob Miller. And we shall ask the lovely Mrs JC to do the honors and choose the winner, as usual. The names are written on paper . . . strewn on the desk . . . mixed . . . and the winner is . . . Ceedee. Congratulations Ceedee. It's about time, right? Anyway, the record is yours and, as always, we will ship it to you free of charge. Just send an email to al@jazzcollector.com with your mailing address.
We are poring through our records now to decide upon another record for our next giveaway, which will be announced later today or tomorrow.
By the way, we are also selling some nice collectibles this week, including a few a couple of mint Mosaic boxed sets and some Billy Taylor early yellow label Prestiges. You can see our items by clicking Items for Sale here or at the top of the page above.