Jazz Vinyl Giveaway, Miles Davis, The Winner Is . . .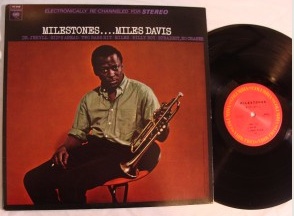 A belated merry Christmas to all, and so it is time for our latest Jazz Collector give-away. The item is this: Miles Davis, Milestones, Columbia 9428. This is not an original 6-eye pressing, but is a nice later stereo copy in near mint condition. We have the one copy to give away to one lucky reader of Jazz Collector who was wise enough to post a comment during the past two weeks and lucky enough to have his name plucked out of a hat by the plucky Mrs. Jazz Collector. And so, the names going into the hat for this giveaway are: Michel, Jorge, Dave S., Aaron, Don-Lucky, Jason, Rudolf, CeeDee, Bethellodge, Bob Brooks, Jan, Doug, Gregorious, Geoffrey Wheeler, Soulnik, Geraint and Marshall. A distinguished group if ever we've seen one. And so we shall
call upon Mrs. JC . . . and here she is . . . and her are the names crumpled up and strewn upon my desk . . . and here is Mrs. JC with the selection . . . and here is the winner . . . Jorge. Congratulations Jorge. I think you are a relatively new commentator on the site, so welcome and please keep commenting. In order to collect your price all you have to do is send an email to al@jazzcollector.com with your mailing address. We'll take it from there and we'll pay for the postage as well. Please stayed tuned later today or tomorrow for our next giveaway.