Insanity Check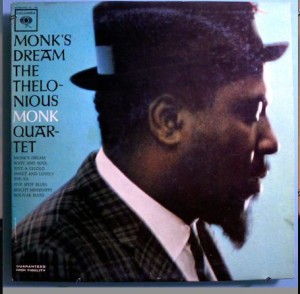 Having taken note of what I considered to be the pretty high price on that stereo copy of Giant Steps, and having taken note that it was a listing by the seller bobdjukic, I wandered over to eBay to look at some of the other completed listings of his recent auctions because I am always impressed and somewhat taken aback by the prices he is able to get on most of his jazz vinyl listings. And, while there wasn't that much jazz in these latest auctions, the prices continue to rise to the occasion, so to speak. Here are a few examples:
Thelonious Monk, Monk's Dream, Columbia 1965. This is a two-eye pressing that is listed in VG++ condition for the record and VG++ for the cover, although upon close examination of the pictures of the cover it would seem more like a VG+ on my grading system. This one was only listed as "very rare," but it sold for $127.50, which is significantly more than we typically see for this album.
Duke Ellington at Newport, Columbia 934. This is an original six-eye mono pressing that is in shrink wrap, although, to be fair, they were not actually shrink wrapping records when this came out in 1957.
The record was listed in M- condition and the cover was probably VG++. The record sold for $123.50. This is a fairly common record, and it's by Duke, and I can't recall it ever getting that kind of price. Those of you who have knowledge of, and interest in, other genres should do what I did and take a look at the completed listings. There are a lot of insanely rare records getting insanely high prices. As a seller, I'm sure it would be nice to duplicate what this seller is able to accomplish, but I don't think other sellers have quite discovered the key. Or, perhaps, there is an imagined ethical line they are unwilling to cross?