Three Tenors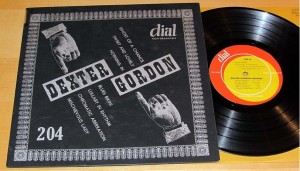 Just spent some time rummaging through the high-end bins on eBay and found quite a few interesting items, starting with: Dexter Gordon Quintet, Dial 204. This is an original 10-inch pressing listed in near M- condition for the record and M- condition for the cover. Seller took beautiful clear pictures and the record is quite tempting to this Dexter Gordon and 10-inch LP fan. But the start price is around $350 and, tempting as it may be, it is not tempting enough to entice me at that price. Nobody else is enticed yet, either, but I do have a feeling this one will sell.
This is another nice one that is also lacking bids at the moment: Sonny Rollins, Way Out West, Contemporary 3530. this is an original promo copy in M- condition for both the cover and the record. Looks like a real gem, also with nice pictures from the seller. There is a start price of about $500 and a buy-it-now price of about $700. If any copy of Way Out West would set a new price high, this would seem to be it, an original promo in M- condition. But the start price is up there. In the Jazz Collector Price Guide we've never recorded a copy of this record selling for more than $300.
One more:
John Coltrane, Giant Steps, Atlantic 1311. This is an original black label pressing that looks to be in M- condition for both the record and the cover. Another beauty. This one will sell. The bidding has just about reached $600 and there's still more than a day to go.