A Prestige-eous Day at Jazz Collector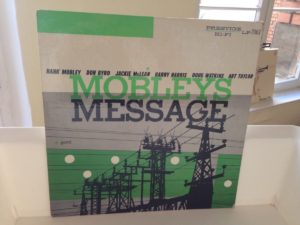 Let's look at a few from Prestige and related labels today, starting with Hank Mobley, Mobley's Message, Prestige 7061. This was an original New York yellow label pressing listed as being in "pristine" condition from a reliable seller. The final price was $715.99, which strikes me as quite a bargain for this record in this condition. Or at least as much as any record for $715 can be a bargain. With this personnel — Mobley, McLean, Byrd, Barry Harris, Doug Watkins and Art Taylor — what would this record go for if it was on the Blue Note Label. I think we'd probably be looking in our metaphorical $2,000 bin.
This is another one I thought would fetch a higher price, but there seem to be extenuating circumstances: Miles Davis, The New Miles Davis Quintet, Prestige 7014. This was an original New York yellow label listed in M- condition for the record and VG+ for the cover. The final price was $220. You would definitely expect this record to go for a higher price in this condition, particularly in that it's the first record on which John Coltrane gets a chance to stretch out and solo. The extenuating circumstances in this case are that the seller's rating is not great, at 98.7%, and the pictures indicate that the condition of the cover is VG, at best. The combination of those two factors would probably scare off some serious bidders. As it was, the record only had one bidder.
Art Farmer and Gigi Gryce, When Farmer Met Gryce, Prestige 7085. This is an original New York yellow label. The record is graded in VG condition and the cover VG+, but, like the Miles record mentioned above, the pictures show that the cover should really be graded VG, at best, with a huge water stain on the back. The auction closes in five days and the opening bidding starts in the $120 range, but so far there are no bidders.
Finally, we have this one back for a return engagement: Sonny Rollins, Worktime, Esquire 32-038. This looks to be the same copy that sold a few weeks ago for about $270. Perhaps  there was an issue with the sale. The record is now back with a start price of approximately $100. The record is listed in VG+ condition and the sleeve as Ex. I still find the cover weird but cool and would like to own a copy. Perhaps this one.