Dec 1, 2011 Prestige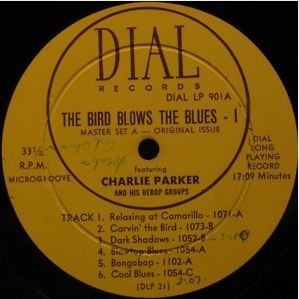 Here's some of the jazz vinyl we're watching now on eBay, starting with: Charlie Parker, The Bird Blows the Blues Volume 1, Dial 901. This is the original 1950 pressing and is, to our collective knowledge here, supposedly the first 12-inch LP ever. Based on the description, it sounds as if the record is in VG++ condition. I wouldn't mind having a copy of this (which I don't). This one closes in more than three days, is at a little bit more than $100 and has a reserve price, which has not yet been met. Hmmmmm.
From the same seller is Hank Mobley, Mobley's Message, Prestige 7061. This is another one I once owned and now regret selling. This one looks to be in VG condition, perhaps VG+, but probably VG. It is about $120 with a few days left to go.
If it's "insanely rare" it must be the seller bobjdukic, who is back with a bunch of records, including:
Moondog, The Story of Moondog, Prestige 7099. This looks to be an original pressing. The record is described as M- and the cover as VG++, but the picture on the cover shows that it is VG+ at best, with a water stain. That should impact the price, which is about $100 with a few days left. There is also a reserve price that has not yet been met. The cover, designed by Andy Warhol, is the reason this one is valued so highly as a collectible.
Tags: Andy Warhol, Charlie Parker, Dial Records, Hank Mobley, Moondog