Four Jazz Classics, and Nary a Blue Note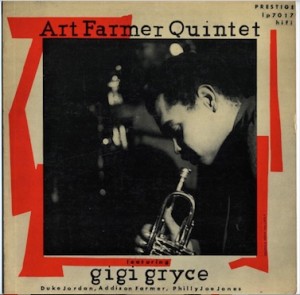 And now for some more jazz vinyl from our eBay watch list, starting with Art Farmer Quintet, Prestige  7017. This is an original yellow label pressing with the New York address. The record and cover are both listed in VG+ condition. The price is only at $88 with less than a day left on the auction. Someone may be in line for a bargain (and a great record). In the same vein, and from the same seller, there is Art Farmer and Gigi Gryce, When Farmer Met Gryce, Prestige 7085. This is also an original New York pressing, listed in Ex condition for the record and the cover. Based on the seller's descriptions, it looks like Ex is a higher grade than VG+. This one is at a bit more than $200.
While we're on Prestiges, there is:
Kenny Burrell with John Coltrane, Prestige New Jazz 8276. The seller describes this as an original pressing, which raises an interesting question, interesting to me at least. Normally, I would expect a New Jazz pressing of this vintage to have deep grooves. I don't see deep grooves on this pressing. Furthermore, I've owned three different copies of this record over the years and I've never had one with deep grooves. So, the question, dear Jazz Collector readers, does anyone out there have a copy of this record with deep grooves? If so, that would settle the question for good. If not, then perhaps it doesn't exist.
Here's a record I've always been very fond of: Charles Rouse and Paul Quinichette, The Chase is On, Bethlehem 6021. This looks to be an original pressing with the red labels. The seller grades the vinyl as Ex and the cover as G+, although based on the description, the cover is probably closer to VG+, although there is a former owner's name writ large on the back, so maybe VG. Anyway, this one has a single bid of $120 and is closing in about three days. Great record if you're willing to take a chance on the condition.