Hardee Bop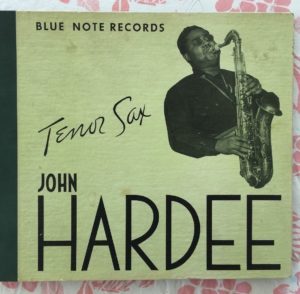 Let's catch up on some jazz records from our eBay watch list, starting with that John Hardee 78 album, Blue Note 101. When we last looked at this the start price was around $100 and there were no bidders. As noted, the condition leaved a lot to be desired and, alas, no one was willing to bid the $100 it would have taken to purchase it. The item is relisted at the same price, so maybe someone will see this and get the urge. One of the reasons I'm writing about it again is because I wanted to include the picture of the cover, which is quite cool, IMHO. Is it worth $100 just for that? Probably not, but close.
I'm always intrigued by records I've never seen before in my nearly 50 years of collecting jazz. This was one of them: Slide Hampton, Exodus, Phillips, B 77.915L. This was an original French issue from 1962. It was listed in at least VG++ condition for the record and M- for the cover. Looks like a good record, given the personnel (George Coleman, Richard Williams, Butch Warren, et al) and the tracks (Moment's Notice, I Remember Clifford, Confirmation, Straight No Chaster, et al). Anyone have a copy and want to share some insight?
I also had my eye on a couple of Rollins records: Sonny Rollins, Worktime, Prestige 7020. This looked to be an original pressing with the New York label, framed cover and pink coloring on the front. It looked to be in close to M- condition for the record and similar condition for the cover. The final price was $595.74. And this is not a $1,000 record because . . .  .?
Sonny Rollins, Tenor Madness, Prestige 7047. This was also an original New York yellow label. It looked to be in about VG+ condition for the record and cover. When I first spotted it thee were no bids with a start price of about $150. The final price was $263.89. I'll tell you this, if I didn't own an original pressing of Tenor Madness and could get one in this condition for less than $300 I'd be one happy Jazz Collector.