Jazz Vinyl Countdown: Miles? Prestige?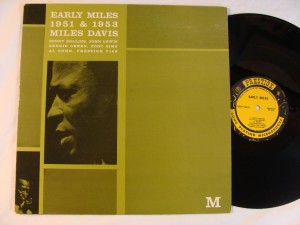 This is a test of whether I am willing to cut close to the bone in this Jazz Vinyl Countdown upon which I have embarked. This is the record in question: Miles Davis, Early Miles, Prestige 7168. This is a yellow label pressing with the deep groove and RVG in the deadwax and it's in very nice condition, at least VG++ on the vinyl. Plus it has a promo stamp on the back. So why is this record even in contention to be discarded? Well, the music was previous issued on 10-inch LPs and, more notably, on the 12-inch LP Miles Davis Plus Horns, Prestige 7025. I recently obtained a very nice original pressing of Miles Davis Plus Horns. So, the question I'm asking myself: Does that make Early Miles extraneous. In the old days, the answer would have been a clear NO WAY! Today, however
we are viewing things through a different perspective. There was a time when we dreamed of owning the entire Prestige yellow label series, all yellow labels and originals, of course, but wisely we abandoned that dream when we realized no one should own that many Jack McDuff or Eddie "Lockjaw" Davis LPs, nothing personal against those fine musicians. Then there was the thought of owning just the 7000 and 7100 series, but we put that one aside as well. So, without either long-term goal, does it still make sense to own at least two copies of the same music when we can certainly only listen to one at a time. The answer is . . . no, it does not. Thus, we are going to put Early Miles on eBay today, with a start price of $30 and we are going to assume it is going to wind up in the hands of a collector who either appreciates the fine music or is still pursuing the dream of an entire collection of yellow-label Prestiges.