. . . And a Few More Non-Blue Notes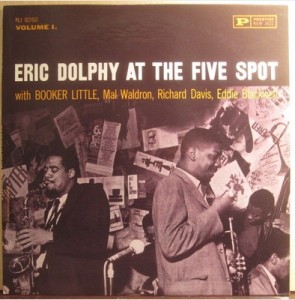 Funny that I did the post yesterday about non-Blue Note jazz vinyl and then noticed an e-mail from the Jazz Record Center with an auction consisting of non-Blue Note jazz vinyl. And then CeeDee sent me a separate note about a New Jazz Eric Dolphy LP fetching quite a high price. To wit:
Eric Dolphy at the Five Spot Volume 1, New Jazz 8260. This was an original purple label pressing with the deep grooves. The record was only VG+ condition and the cover was M-. The price was $887. We've seen this record sell for more than $900 previously in the Jazz Collector Price Guide, so it's not unprecedented. But VG+ vinyl? Per CeeDee: New JAzz — the new Blue Note?
Some of the Jazz Record Center items: Bill Evans, Interplay, Riverside 9445. This is an original stereo pressing with the black label. It looks to be in M- condition for both the record and the cover. The start price is $100 and there is already a bidder so it will sell. Charles Mingus (et al), Newport Rebels, Candid 8022. This is an original mono pressing that looks to be in M- condition all around. The start price is $75 and so far there are no bidders. I always thought this would be a record more prized by collectors, given the additional presence of Kenny Dorham and Eric Dolphy, among others, and also the unusual circumstances that led to the recording. But, it doesn't usually get top dollar. This is another one I have to put on the turntable again, since I haven't listened to it in years.