Jul 8, 2012 Prestige, Riverside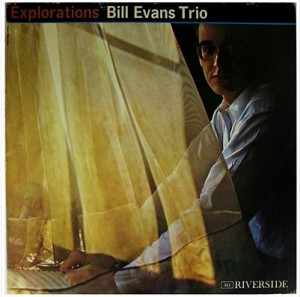 Time to catch up on some jazz vinyl we've been watching this past week, starting with Bill Evans Trio, Explorations, Riverside 351. This one was graded in EX condition for the vinyl — which I interpret to be what Goldmine would characterize as VG+. That is, not near mint, but a record that has obviously been played, but is mostly clean. I think people see EX and expect excellent condition and perhaps that inflates the price. The cover was listed as EX+, which I interpret as VG++. Looking at  grading labels and language people use is important, I think, in being an aware consumer and not being totally surprised by what you get. It would be nice if there were a universal language and grading system, but then again what would we do with all of the "insanely rare" and "holy grail" language that crops up so often? Anyway, this record sold for $512, a price that leads me to believe someone is expecting an "Excellent" record. What that means, I guess, is in the eye of the beholder.
This one, from the same seller, also got top dollar:Jackie McLean and John Jenkins, Alto Madness, Prestige 7114. This was an original New York yellow label pressing.  This record was listed as M- for the vinyl and EX or EX+ for the cover. It sold for $787.
Tags: Bill Evans, Jackie McLean, John Jenkins