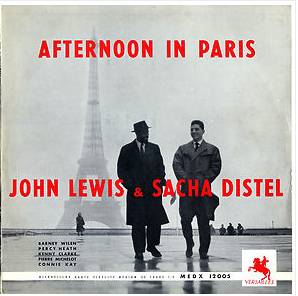 Just swung over the eBay and, mmmm, there are some nice records for auction right now. Here are a few, starting with: John Lewis and Sacha Distel, Afternoon in Paris, Versailles MEDX 12005. I know, I know, another European pressing. But this is quite a beauty, isn't it? And great music featuring Barney Wilen on tenor sax. This one is in M- condition for the record and probably VG++ for the cover. The price is already $600 and, no, I am not bidding on it despite my post yesterday. I may be crazy, but I'm not insane. The U.S. Atlantic pressing will definitely suffice for me.
 Kenny Burrell, Blue Note 1543. This is an original pressing with the Andy Warhol cover design as well as the Lexington Avenue labels. This was the last of the Lexington Blue Notes. The record and cover are both listed in VG+ condition and the bidding is in the $315 range with nearly three days to go. It will fetch a hefty price.
The Magnificent Thad Jones Volume 3, Blue Note 1546. This is an original West 63rd pressing with the New York 23 labels. The record is M- and the cover is VG+. Would love to have this but, alas, I will keep searching for a copy that doesn't cost as much. This one is already more than $400 and there are more than three days left on the auction.