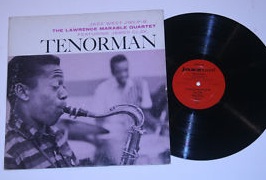 As always, we are watching some interesting jazz vinyl that will be selling (or not selling) on eBay this week. Here are a few samples:
This is another one where the seller is starting with a very high price: Lawrence Marable, Tenorman, Jazz West 8. This is an original pressing that looks to be in superb condition, at least VG++ for the record and the cover. The starting price is $1,800 and there are no bidders.
This is a pretty hefty price for one of the Benny Golson New Jazz LPs: Benny Golson, Gone With Golson, New Jazz 8235. This is an original deep groove pressing and it is in M- condition. It is also being offered by Euclid Records, one of the better known brands in our community. There are already eight bids on this LP and the price is close to $200. Note that the pianist on this date is Ray Bryant who passed away on Thursday.
I have to say, I'm tempted on this one: Elmo Hope, Informal Jazz, Prestige 7043. This looks to be an original New York pressing, although the listing is definitely lacking in details. The condition looks excellent and the price is only $135 and it is ending today. This may call for a visit to my sniping software. Will keep you posted. Of course, publishing my intent on Jazz Collector may not be the wisest strategy, huh?