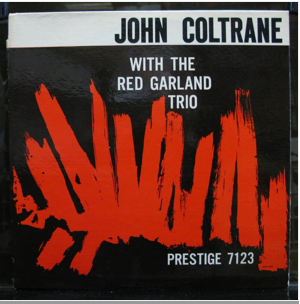 Let's catch up on some of the jazz vinyl we've been watching at Jazz Collector. We'll start with the Prestiges and move on to the Blue Notes later.
John Coltrane with the Red Garland Trio, Prestige 7123. This was an original pressing with the original cover (the second pressing on this is Traneing In). The record was M- and the cover was VG+ and the price was $660. We've watched this one many times in the Jazz Collector Price Guide and it never surpassed $400. Quite a change. I've been cataloguing my records for insurance purposes and I had this one at $300. Guess I'll have to change that.
This one also seemed to hit a new high: Olio, Prestige 7084, with Thad Jones, Frank Wess, Teddy Charles, Elvin Jones, Mal Waldron and Doug Watkins. This one was in M- condition all the way around and sold for $504.