Posts Tagged 'Porgy and Bess'
Dec 3, 2012 Jazz Vinyl on eBay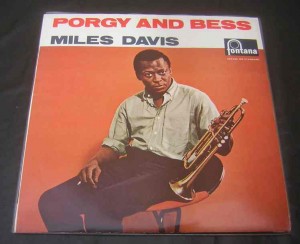 Just browsing eBay and came upon a few items I've never seen before. I'm always impressed, after more than 40 years of collecting jazz records, that there are still records that are new to me, for example:
Perhaps I've seen this before, but I dont' recall it: Miles Davis, Porgy and Bess, Fontana 662.036. This is a French pressing and the seller says it is a 10-inch record, which makes sense if you look at the number of tracks per side. Why were the French issuing 10-inch LPs in the late 1950s, when those wars had already been fought and the 12-inch format had won? And look at the cover — it's the same picture that's on the American Milestones. I have to say, this looks like a pretty cool item to me. It has a start price of about $100 and is listed in M- unplayed condition.
Speaking of French pressings: Pierre Michelot and his Orchestra, Round About Bass, Mercury 125 500. This is an original French mono pressing and is listed in EX+ condition for the record (VG+++ in our terms?), and EX for the cover. This is from the same seller as the Miles LP and is also in the $100 range with no bids yet.
This an American record, and I assume it's jazz because it is listed under jazz on eBay and because it is right in the midst of the Atlantic jazz series, but I've never seen it:
Tags: Miles Davis, Oscar Peterson, Patty McGovern, Pierre Michelot, Porgy and Bess, Thomas Talbert
Mar 6, 2012 10-Inch LPs, Blue Note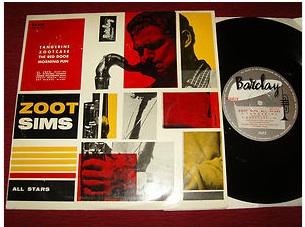 After all these years of collecting and visiting record stores, I still get a kick out of seeing records I've never seen before. Case in point: Zoot Sims All Stars, Barclay 84019. This looks to be an original 10-inch French pressing with a really nice looking cover and label. The seller describes the vinyl as being in M- condition, and the cover is probably VG++. The start price is about $200 and there are five days to go.
Speaking of European pressings, I had never seen this cover of Miles Davis, Porgy and Bess, CBS 62108. Think about how many candid shots of Miles you've seen where he's actually smiling. Here's one. Very nice cover. This is a stereo pressing listed in VG++ condition for the record and cover. So far there are no takers at a mere $19.
From the time I saved the record to when I started writing this post, a gap of about 15 minutes, the price of this record shot up by several hundred dollars: Jutta Hipp at the Hickory House Volume 1, Blue Note 1515. This is an original Lexington Avenue pressing. The record is in VG condition and the cover is VG++. The price is now more than $600 and will probably keep on rising.
Tags: Barclay, Jazz Vinyl, Jutta Hipp, Miles Davis, Porgy and Bess, Zoot Sims