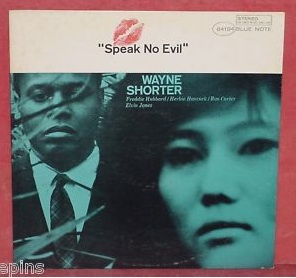 Here are some odds and ends of interest for various reasons:
As prices have been rising for original Blue Notes, we've also been watching prices rise, although not as drastically for later pressings. We had an eye on this one: Wayne Shorter, Speak No Evil, Blue Note 4194. This was a stereo pressing with the Liberty label. The record as M- and the cover was VG++. It sold for $38. I couple of years ago, these Liberty pressings were selling in the $20 range, so there has been movement, as you would expect. When I first started collecting jazz in 1970 or so, if you went into a local store such as a Sam Goody, these were the pressings you would typically find. If I had been prescient, or if I had the money, I would have bought them all.
This seller was trying to take a shot with a record of similar vintage: Hank Mobley, No Room For Squares, Blue Note 4149. This didn't have a description of the label, but it did clearly show in the picture that it was a Liberty pressing. He tried with a start price of $100. There were no bidders, and it has now been listed for around $50, with the same pictures. Presumably there will still be no bidders, but you can never tell. This seller's feedback rating, by the way, is 98.8 percent.
This one is hard to figure: