What is On Your Turntable? Here's What's on Mine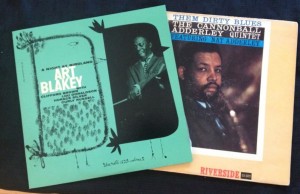 I'm back from a brief respite. Went to an old mining town in southwestern Colorado called Creede, where my son directed a wonderful production of Our Town. A theater in an old mining town? Indeed. The story is that when the mining business began declining, town leaders put out a call for help asking for ideas on how to keep the town alive and attract residents year-round. A group of theater students from the University of Kansas decided to open a theater there. That was 50 years ago and the theater is still alive and kicking. They had done a production of Our Town back in their first season and had Michael come and do a new production this year.
Anyway, it was quite a trip: In addition to flying back and forth from New York to Denver, I drove more than 1,400 miles in five days. I am now back and in my house up in The Berkshires, hopefully to remain here for the rest of the summer. The Lovely Mrs. JC is spending weekdays in New York with her psychotherapy practice and commuting here on weekends, which gives me a lot of time alone. Which is not necessarily such a bad thing, particularly since I did a major upgrade of my stereo system here last year, updating my Lynn-Sondek turntable with a new tonearm and cartridge and replacing my small B&W speakers with a mighty pair of Wilson Sophia speakers. The sound is quite fantastic and, best of all, I have the lake at the back of the house, an empty forest at the front, and two empty houses on each side. Which means I can play my music as loud as I want any time of the day. Normally, I don't like to listen to the music at too high a volume, but with the system I have in place the music at higher volumes sounds almost live. So I've been doing a lot of that lately, and enjoying it quite a bit, particularly when supplemented with the aid of an occasional beer or glass of wine and/or other substance that is now legal in several states and wherein I have been able to obtain a quantity of high-quality product that would otherwise be used for medical purposes but, for me, is quite recreational.
Last night was a perfect example. After enjoying a sampling of said product and a bottle of beer I sat down to watch a documentary on Netflix called Beware of Mr. Baker, which is a biography of the drummer Ginger Baker. Fantastic movie – I recommend it highly. He's a great character and a great drummer and a bit of a nut job and the film captures all of those aspects of him. Anyway, there's a scene in the movie where Baker is playing with Art Blakey and they are a mighty pair, indeed. After the movie was over, I put on a couple of Cream tracks to listen closely to the drumming. I'm not a drummer nor an aficionado of drumming, but it's not hard to hear that Baker was/is something special. But the rock music was not so interesting to me, so I decided to move over to jazz and, having just seen Blakey in the movie, I had a yen for some Jazz Messengers. I wanted to put on Buhaina's Delight but, alas, I only have one copy of that record and it is in Manhattan. I looked through the few Blakeys I have here and opted for A Night at Birdland Volume 2, Blue Note 1522. This was not my original pressing, which is also sitting on a shelf in Manhattan; this was a Japanese Toshiba pressing. Still, it was a record I wanted to hear because, frankly, I couldn't remember the last time I put it on the turntable, even though I've always known it to be a great record. I put on Side Two with Now's the Time and Confirmation. Absolute heaven. The volume was high, the record was recorded live and, in my altered state, it felt like I could feel the musicians in the room with me. All the music is great on the record, but Clifford Brown is outrageous. Listen to both of his solos on this side; I defy you to find any better trumpet solos anywhere – so inventive, swinging and emotional. Confirmation is done at a breakneck pace, the fastest version I can think of offhand.
Anyway, I really enjoyed that side and wanted more, but this time I wanted an original pressing from the era because, as great as the Japanese Toshiba sounded, it also felt like perhaps a little something was missing. So I went to my originals up here, which are all duplicates, and started with the A's and settled quickly on the Cannonball Adderley Quintet, Them Dirty Blues, Riverside 322. Another record that I've always loved but hadn't listed to in awhile. I started on Side One with Work Song and Dat Dere. Right away, I could tell I liked the sound better on the original pressing than on the Blakey reissue. It was richer and more live sounding, if you know what I mean. And, as with the Blakey record, I was once again in the company of an outstanding and tightly knit group with a singular soloist, in this case Cannonball, who was an absolute master. Again, listen to this record and, outside of Bird, try to find any better alto solos anywhere and anytime.
By the time this side was over it was around midnight and, while I felt like I could stay up all night just listening, I took the practical route and went to bed. I'm still working quite hard these days, and there are always deadlines to face in the mornings. But I gave myself a raincheck for tonight because The Lovely Mrs. JC isn't coming up until tomorrow and I remain on my own. Who knows what music lies in store for later? In fact, I'm open to recommendations, so please . . .