A Question of Ridiculous-ness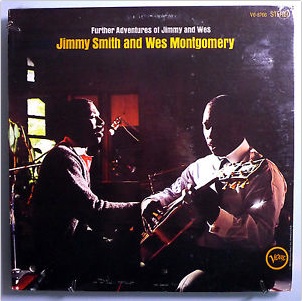 I told you there's always excitement when we're watching the bobdjukic auctions. CeeDee is back with this note:
SUBJECT: who is paying this kind of bread for these readily found LPs?
BODY TEXT: Al, I give up. I thought I could figure out "what sells and what doesn't" but I'm finding I have no freakin' idea!
RECORD IN QUESTION: Wes Montgomery and Jimmy Smith, Further Adventures of Jimmy and Wes, Verve 8766.
CONDITION: Sealed
PRICE: $455
So, for today's quickie quiz: Which sale is more ridiculous, the Jimmy and Wes one above or the other one cited in the earlier post, namely John Coltrane, The Other Village Vanguard Tapes? This was also sealed and sold for $237.50. Or is there perhaps another that we missed? I vote for Jimmy and Wes being more ridiculous, although it was a close call. At least the Coltrane is a double record and sold for a price that was more than $200 lower than the Jimmy/Wes record.