Free Jazz Vinyl, TAL: And The Winner Is . . .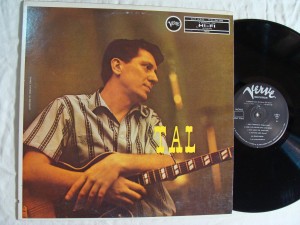 OK, time to announce the winner of our latest give-away. This one is: Tal Farlow, Tal, Verve 8021. This is a nice Japanese pressing that is in beautiful condition and is being given away, frankly, because we found ourselves with an abundance of copies through a variety of mostly pleasant circumstances. Anyway, this record features Tal in a guitar-bass-piano trio with Eddie Costa and Vinnie Burke. It's a superb record and of the era during which Tal was setting new standards for inventiveness on the jazz guitar. As usual, the record will go to someone who has commented on the Jazz Collector site these past two weeks. We may have a new record number of eligible contestants — 21 in all. Usually I mention everyone, which I shall do again, but I'm not sure if I should continue doing. If any of you has a feeling about this, and about having your name mentioned, please let me know. Anyway, the eligible names for the Tal record are:
Michel, Ville Iivari, Mr. DW, Ayrton, Erich Schultz, DaveS, Hohit, Bethellodge, Rudolf, Duonri, Rockie, CeeDee, Brian, Gilles Miton, Neil, Bob Brooks, Geraint, Don-Lucky, Chris, Gregorious and Jorge. As usual, we have called upon the lovely Mrs. JC to select the winning name out of a hat, and she did so last night and left the winning name laying upon my desk so that I could see it first thing in the morning, which is now. And I am opening the piece of paper and reading the name and now typing the name, which is Mr. DW. Congratulations Mr. DW. In order to claim your free record — we pay for shipping, too, so it really is free — all you have to do is send an email to al@jazzcollector.com with your mailing address.  For everyone else, please stay tuned to the site later today and we will post the record for our next give-away contest.