A Heavyweight Quartet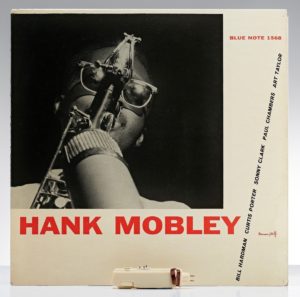 We are watching some real heavy-duty collectibles on eBay now, starting with Hank Mobley, Blue Note 1568. This is one of those quasi-original originals depending upon your point of view. Translation: It doesn't have the New York 23 on one side of the label. Whether that makes it less original is probably not the point. What we have learned over the years is that it makes it slightly less valuable to collectors. No tears are being shed for this seller, however. The record looks to be in around VG++ condition and the cover is M-. The bidding is more than $2,600 with less than a day left. This copy has been around the block a few times, and is the same one that ostensibly would have sold for more than $11,000 back in 2015 but obviously did not actually sell at that time. Sometimes it's hard to keep up with the goings on at eBay, even for someone like myself who follows things fairly closely.
Here's another one destined for the $2,000 bin: Eric Dolphy in Europe, Debut 136. This is an original pressing listed in "near mint" condition for both the record and the cover. There are nearly four days left in the auction and the bidding is already at $2,000. Do you think Eric Dolphy could have ever imagined a single record of his selling for more than $2,000? Do you think he ever made anything close to that for a single record date? Not very likely.
This one has already surpassed $1,000 in bidding but may not actually sell because it hasn't reached the seller's reserve price: Kenny Drew, Undercurrent, Blue Note 4059. This looks to be an original West 63rd Street pressing with one side deep groove. The record is listed in M- condition and the cover is VG++. The bidding is at $1,025 with nearly four days left.
This one has a start price of nearly $1,000: Sonny Clark Trio, Blue Note 1579. This is an original West 63rd Street pressing. The record and cover are listed in VG++ condition. There are no bids yet, but there are seven days left on the auction so we would expect it to sell, given the condition of the record and the state of the market.