A Little Hope For the Hipp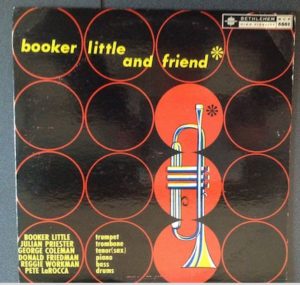 Here's one you don't see too often on eBay: Booker Little and Friend, Bethlehem 6061. I guess in this case the friend was Booker's trumpet. The record and the cover are both in VG+ condition and the start price is $350. Thus far there are no bidders with about a day and a half left on the auction as of this writing. We've seen this record sell for more than $700 a few times in better condition than this, so the seller might have expectations of the record selling for this price.
Here's another seller that is optimistic with a start price of more than $1,400 for this record: Elmo Hope, Meditations, Prestige 7010. This is an original New York yellow label pressing listed in EX+ condition for the record and Ex/Ex+ for the cover. I'm like Bill W. on the previous post. I'm never sure what Ex or Ex+ means, although I'm assuming for this record the condition is either M- or pretty darn close to it.
And now we have Jutta Hipp, New Faces, New Sounds, Blue Note 5056. This is an original 10-inch Lexington Avenue pressing listed in Ex condition for the record and M- for the cover. There is mention of a tiny scratch on one track, which may be the reason there are no bids yet. The start price is $300 and there's more than a day left on the auction.