Catching Up: Sahib, Serge, Newk, Woods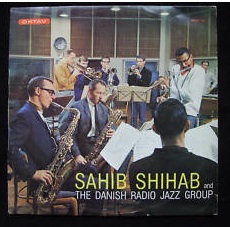 This one almost made the $2,000 bin: Sahib Shihab and the Danish Radio Jazz Group, Oktav 111. This was an original Danish pressing. What was most amazing about this listing was the number of views it received — more than 1,600. It was listed so that it came up on the first page when you would do a search of jazz vinyl, but still, 1,600 views is quite a lot for any record. Also, I have to plead my ignorance about this LP: I've never seen it before and know nothing about it, so if anyone has insight to share, please feel free to do so. The record seemed to be in VG++ condition, close to M-, and the cover was also about VG++, based on the description. The price was $1,952.60.
This one seemed to get top dollar: Serge Chaloff, Blue Serge, Capitol 742. It was an original pressing in M- condition for both the record and the cover and it was sold by Euclid Records. The price was $364.88. Finding these records in such
mint condition is such a rarity, you wouldn't be surprised by any price, right? I mean, if this sold for $1,364.88 in this condition no one would be shocked.
This next one sold for nearly the same amount in VG+ condition but, of course, it is a Blue Note: Sonny Rollins, Volume 2, Blue Note 1558. This was an original West 63rd Street pressing. The price was $360.55.
One more. We'll catch up on that copy of Phil Woods, Woodlore, Prestige 7018. You may recall that we had our eye on that one and debated whether to write about it on Jazz Collector. It was in VG+ condition and it was only around $40 when we did our previous post. We tried to sneak off with it with a snipe bid of about $140. Hah! The record sold for $338.88. Did we bring defeat upon ourself? Highly doubtful. It was merely wishful thinking to suppose that a record such as this would not sell at its fair market price, which it probably did.