May 19, 2011 Blue Note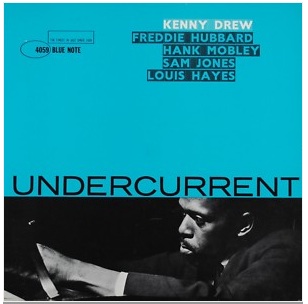 Sorry I haven't been posting as often as usual. Lots going on here. If anyone want to fill some of the void, we always welcome guest columns. In the meantime, eBay goes on whether we post or not, and this week there are some sellers with many, many big-ticket items. Here are a few we're watching:
Somebody in the comments complained about the start prices from the records from this seller, including: Kenny Drew, Undercurrent, Blue Note 4059. This one has the West 63rd Street address and ear, but it doesn't look like any deep grooves. This is one of the ones that causes consternation among collectors, right? DG or not DG, that is the question. If I recall Fred Cohen's explanation, this could have one side DG and be an original, or it could also have no DGs and be an original? Perhaps someone can look it up. In the meantime, this copy is in M- condition for the vinyl, is VG++ for the cover and has zero bids at a start price of $1,200. If you click this item, look at the seller's other auctions and you'll see a potpourri of fantastic collectibles, all at high start prices, all without bids (so far).
Here's another seller with some nice items, including: Curtis Fuller, Volume 3, Blue Note 1583. This looks to be an original pressing based on the description. The record is VG++ and the cover is M- and the price is a bit over $200 now and has not yet met the seller's reserve. If you look at the seller's listings, make sure you read them carefully. I noticed he's selling another Curtis Fuller Blue Note that is listed as a "rare mono pressing" and is a United Artists pressing. It is already more than $50.
From Sweden, this seller also has a bunch of nice items, including: Cliff Jordan, Cliff Craft, Blue Note 1582. This is an original pressing. The vinyl is M- and the cover is VG++. The current price is more than $500, too rich for my blood, although I'd love to have an original copy of this. I listened to my Japanese pressing the other night. Nice record. Right before I'd been listening to another Blue Note, an original pressing of a Horace Silver record. Although the Japanese pressing sounded great, there was still something different (and better) in listening to the original. A crispness, a clarity, a richness, a weight? Hard to describe, but definitely noticeable.
Tags: Cliff Jordan, Curtis Fuller, Kenny Drew