How Much Would You Pay For These?????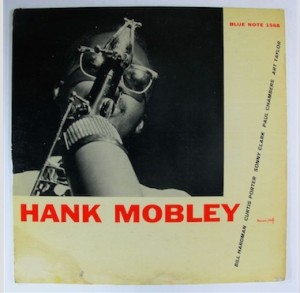 Whilst I was away there was some email, as usual, so let me get to some of that as long as I am catching up. Clifford sent me a note under the subject "1568 Comedy Watch," with the accompanying text: "I don't know if people are getting bored with these, but I still find 1568 auctions fairly amusing/interesting." Attached was this link to Hank Mobley, Blue Note 1568. The auction as over and the final price was $960. Was it a copy you would actually put on your turntable? Not me. The record was listed in G+ condition. Was it a record you'd be proud to display on your shelves? Not really. The cover was in VG- condition with water damage and small seam split. Was it a record you'd spend $960 on, so you could say you own a copy of the rarest of the rare Blue Notes? Clearly, there was at least one buyer who would say amen to that. It was funny seeing this email from Clifford, because just a few minutes later I got a separate email from Mike with the same link and the following question: "I wondered if you or your readership would be willing to part with US$960 for BN1568 in this condition? Speaking for myself,the answer is "no thanks." While it would be presumptive for me to speak for the readership here at Jazz Collector, I would suggest that the answer is a resounding "No" for the vast majority, but it is certainly possible that the winning bidder for this record is here amongst us, although not necessarily anxious to step forward.
This note came in from Michael with the subject: "Quiet Kenny at 2700." The text said: "I know for a fact that this copy sold for 2700. A dealer friend of mine sold it." Here's the record in question: Kenny Dorham, Quiet Kenny, New Jazz 8225. This was an original purple label pressing in M- condition for the record and the cover. It was sold to the best offer, which we now know was $2,700. Michael — were you surprised? I'm not. Not for a copy of that record in that condition. Of course, I sold a copy in that condition 35 years ago. By now you all know the old refrain. I bought a boat, the boat sank, I've never had my hands on Quiet Kenny again.
Finally, this note came in from Jason under the subject: "A real goldmine." The text was: "Thought you'd find this funny. A used jazz price guide priced higher than many of the LPs inside. Think I'll sell my copy and buy a Blue Note." I can't copy the entire note, but it shows a listing from Amazon of the "Goldmine Jazz Album Price Guide, 2nd Edition by Neely, (2004) Paperback," with a variety of listings. The prices, quite astoundingly, were: $595, $749, $764, $874. Does it sound like a joke. Well, check out this link and you'll find one price at, tada, $1,452.71. Does anyone have any clue as to why this volume would command these kinds of prices????????????????????