Jazz Vinyl: Jackie-ing, Hope and McGhee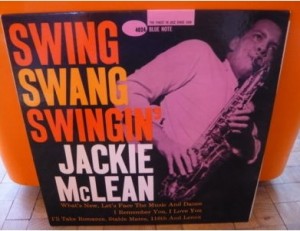 Here's some jazz vinyl we're watching now on eBay. Jackie is back: Jackie McLean, The New Tradition, Ad Lib 6601. This one is from a reputable seller and is listed in VG+ condition for both the record and the cover. VG+ is always a risk, but this one is play-graded and sounds like it is in pretty good shape. The bidding has already topped $1,000 on its way to . . . . we'll see. Also on eBay now is one of my favorites, Jackie McLean, Swing, Swang, Swingin', Blue Note 4024. This looks to be an original pressing with the West 63rd address, deep grooves, RVG, ear. It is listed in M- condition for the record and VG++ for the cover. Start price is $650 and, with a day to go, there are no takers so far. For a high start price like that, I think most buyers would appreciate pictures of the labels, for what it's worth, although I'd be OK bidding on this record if I was inclined to pay that high a price for it in any condition, which I'm not.
This one is tempting:
Howard McGhee, Volume 2, Blue Note 5024. This is an original Lexington Avenue 10-inch LP, featuring both Horace Silver and Tal Farlow, two of my all-timers. I happen to have a mint copy of this record with no cover, so the idea of getting a nice cover is very appealing. The vinyl on this one is VG+ and the cover is listed as VG+ to VG++. It is currently at about $150 with a few hours to go.
This one is tempting as well: Elmo Hope, Informal Jazz, Prestige 7043. This is the one with John Coltrane and Hank Mobley. It is an original pressing listed in VG++ to M- condition for the record and VG++ for the cover. This one is hard to find and the price isn't that high yet — about $225 with two days to go. The problem: It has a reserve price and the reserve price has not yet been met. Is there any way of knowing what a seller's reserve price is, other than just asking him directly?