Missing Out on a Pair of Beauties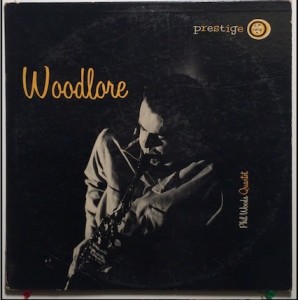 Our new friend Mr. Nobbyknucks had quite a week for himself, so, now that you are officially a commenter here at Jazz Collector, congratulations. Still, there were records on the list that I thought would go for more and, in retrospect, would have been worth a bid if I were so inclined. Specifically, these caught my eye:
Phil Woods, Woodlore, Prestige 7018. This was an original pressing with the yellow label and New York address. It was listed in VG++ condition for the record and VG for the cover. It sold for $351, which is a nice price, considering the cover. But my sense is that the cover was pretty nice and that the VG grade was super conservative. If you look at the pictures and description, I'd have no problem having that record in my collection, even for $352.
This one also would have filled a nice gap in the collection:
Thad Jones Volume 3, Blue Note 1546. This was an original pressing with the West 63rd Street label. The record was listed in Ex condition, described as close to M-. The cover was VG+, pretty nice except for a slight label tear on the cover. It sold for $709. Without the label tear, I bet this one approaches the $1,000 bin.
By the way, Mr. Nobbyknucks, if you want to share the story of how you came about buying this collection, I'm sure we'd all love to hear it. You don't have to talk at all about how much you paid. It would be quite gauche of us to even ask. You can drop me an email.