On eBay Now: Some Nice 10-Inchers, Trane, Evans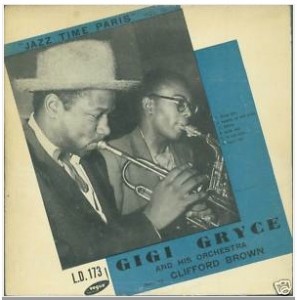 Some of the heavy-duty jazz vinyl sellers have auctions closing in the next couple of days, so let's see what's coming up. We had mentioned Jazz Record Center and some of the 10-inch LPs. So far, the American 10-inch Blue Note is beating out the original French Vogue: The Gigi Gryce and Clifford Brown Sextet, Blue Note 5048, is currently at $107 with two bidders (it should sell for a lot more), while the original French Vogue, Gigi Gryce and his Orchestra Featuring Clifford Brown, Vogue 173 is at $100 with one bidder (it too should sell for a lot more). Jazz Record Center also has a few nice 12-inch LPs we are watching, including this one: Wheelin' and Dealin', Prestige 7131. This is an original New York pressing in near mint condition. It features an all-star sax lineup of John Coltrane, Paul Quinichette and Frank Wess. It is currently in the $300 price range.
Our friends at Euclid Records also have some nice items this week, including:
Jackie McLean, Jackie's Bag, Blue Note 4051. This is an original pressing in VG++ condition for both the record and the cover. The price is now in the $175 range with one day left, so we'll expect it to sell for a bit more than that. Also from Euclid: J.R. Monterose, Blue Note 1536. This is an original Lexington Avenue pressing. The record is listed as VG++ and the cover is VG+. The current price is about $350.
Also active on eBay this week is Atomic Records, which has this one, among others: Bill Evans, Waltz for Debby, Riverside 9399. This is an original black label stereo pressing. The record is in VG+ or VG++ condition, but the seller says there is some surface noise. The cover is VG. The price is about $150. With all of these sellers, it makes sense to click on the links here and then look at the seller's other items when you get there, because there are some other very nice record available this week from all of them.