Prestiges, a Blue Note, Baltimore Nostalgia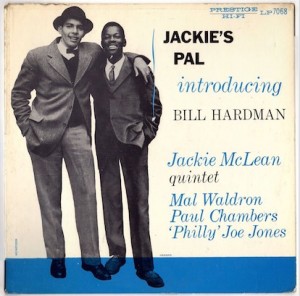 Sorry. I haven't been on eBay in so long all of the auctions I was watching have already ended. Good thing I wasn't looking to buy anything. Here are a few to share: Jackie McLean, Jackie's Pal, Prestige 7068. This was an original pressing with the yellow labels and New York address. The record was listed in VG++ condition and the cover was VG. You can see cover wear in the picture. The record sold for $295, which still seems pretty low to me in spite of the cover. If I didn't have a copy, I'd probably take it for that price. Of course, I do have a mint copy now, courtesy of my excursion to Baltimore two-and-a-half years years ago. There was also this one from Jackie: Jackie McLean, Swing, Swang, Swingin', Blue Note 4024. This was an original West 63rd Street pressing listed in M- condition for both the record and the cover. It sold for $1,125. I wish this one had been in the Baltimore collection, but, alas, my own copy is not an original and it is not in great shape. Not that I would spend $1,125 to replace it.
I must have been in a bit of a Prestige head when I was looking last time, because there are a bunch of nice Prestiges in my queue, including: Elmo Hope, Informal Jazz, Prestige 7043. This is another one from the Baltimore collection, which will always be a highlight of my record collecting experiences. This was another original pressing with the New York address and yellow labels. The record was listed in M- condition and the cover was probably VG+ or VG++. This one sold for $430, which seems low to me, considering the presence of both John Coltrane and Hank Mobley as sidemen. What gives?
And, while we're having a Prestige moment: Webster Young, For Lady, Prestige 7106. This was another New York original. Tough to gauge the condition from the description. It was certainly no better than VG+ and might have been VG for the record. The cover was listed in Ex condition. The final price was $456.78, which sounds about right considering the condition of the vinyl. Great record, by the way. Two underrated soloists in Webster Young and Paul Quinichette.