Some Jazz Records That are in the $3,000 Value Range; And Some That Aren't Close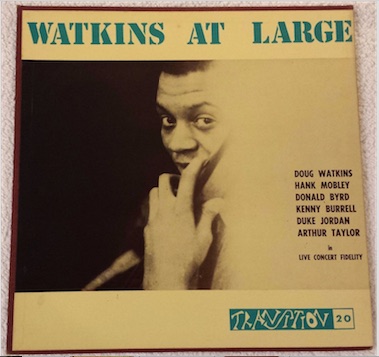 Here are a variety of jazz records from my eBay watch list, as I still get back into the swing of things following my trip to Italy and subsequent return to reality. Let's start with Doug Watkins at Large, Transition 20. This was an original pressing that looked to be in absolutely pristine condition, including the record, cover and booklet. Even the labels seemed to be intact. Potential bidders probably assumed, and probably correctly, that this may be the cleanest version of this record to come on the market some 60 years after its original release. So it sold for a whopping $3,161.
While I'm looking at whopping prices, here's another: Hank Mobley and Lee Morgan, Peckin' Time, Blue Note 1574. This was an original pressing with the deep grooves, ears, West 63rd address, etc. It was listed in M- condition for both the record and the cover. It sold for $2,750.
And then there are some records that don't sell at all, or sell for relatively low prices. To wit:
Lee Konitz Meets Jimmy Giuffre, Verve 8335. This was an original pressing with the trumpeter logo. It features Konitz as well as Bill Evans, Hal McKusick and Warne Marsh, among others. The record was listed Excellent condition and the cover was VG+. I've always viewed this as a nice collectible, yet nobody wanted it at $35. It's a weird world when the extremes are so out of proportion — some collectible records selling for $3,000 and more, and others not even drawing a bid at $35.
I also thought this one had some interest for collectors, particularly aficionados of jazz guitar because of the presence of Dick Garcia, but I was apparently wrong: Johnny Glasel, Jazz Session Featuring Dick Garcia, ABC Paramount 165. This was an original pressing that looked to be in VG+ condition for the record and the cover. Nobody wanted it for $9.95.
Here's another rare jazz guitar record that I thought wouldn't sell, but wound up getting some bids at the end: Chuck Wayne Quintet, Progressive Records 1003. This was an original 10-inch record, featuring Zoot Sims and Brew Moore. It's a very rare record and one you don't see very often. This copy was in M- condition for the record and VG+ for the cover. The start price was $50 and there was no bidding until the last few hours/minutes. It wound up selling for $89.80.