The $1,000 Bin (And Beyond)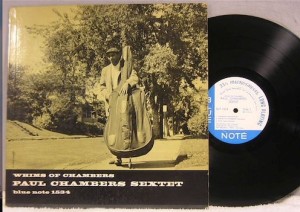 Let's catch up on some of the jazz vinyl auctions we've been watching on eBay, starting with Paul Chambers, Whims of Chambers, Blue Note 1534. This was an original Lexington Avenue Pressing that was listed in VG++ condition for the record and VG+ for the cover. It wound up selling for $1,136. It's amazing how the prices for these original Blue Notes have gone up in the years we've been doing Jazz Collector. A few months ago we saw a copy of this record sell for more than $2,700. Back in 2004, I gave myself a hard time for spending $300 on a M- copy of the same record.
This one did not sell because it did not meet the seller's reserve price: Red Rodney, Signal 1206. This was an original pressing in M- condition for the record and VG++ for the cover. The top bid was $1,501. It's hard to imagine that any of us, collectors or sellers, would have ever thought that $1,500 was too low a price for a single jazz record, but that day has certainly arrived.
This one made it into the $1,000 bin and actually did sell, despite the condition:
Roland Kirk, Triple Threat, King 539. This was an original pressing but it was only in VG for the record and VG- for the cover. The top bid was $1,025. Man, that's a lot of money for I record I'd be hesitant to place on my turntable.
This one will end up in the $2,000 bin and may even make the rarified air of the $3,000 bin: John Coltrane, Blue Train, Blue Note 1577. This is a very hard to find original original pressing, with the New York 23 on one side. The record is in VG+ or VG++ condition and the cover is just VG+, but the bidding is already at $2,000, with the auction closing later today. It'll be interesting to see what this one sells for.