The $2,000 Bin (and Up); Rediscovering Some Confessions of a Jazz Vinyl Addict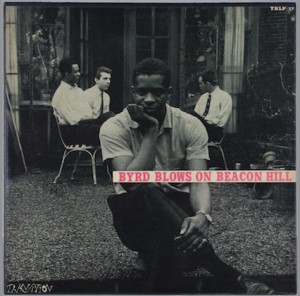 Time to catch up on some of the jazz vinyl auctions we've been watching from eBay, starting with this whopper: Donald Byrd, Byrd Blows on Beacon Hill, Transition 17. This was an original pressing with the booklet. Everything seemed to be in M- condition. The final price was $3,839.10. Definitely a new high for this record for the Jazz Collector Price Guide, although I was surprised to see that this record has sold for more than  $2,600 in the past.
This one is destined for the $2,000 bin and perhaps even joining the Byrd record in the $3,000 bin: Sonny Clark, Cool Struttin', Blue Note 1588. this is an original West 63rd Street pressing listed in VG++ condition for
the record and the cover. This one closes later today and the bidding is already more than $1,900.
Here's another one where the price blew me away: Paul Chambers, Whims of Chambers, Blue Note 1534. This was an original Lexington Avenue pressing with the frame cover. The record looked to be in M- condition and the cover was probably VG++. The price was $2,701.  To put that in perspective: Back when I first started writing Jazz Collector, all the way back in April 2004, I wrote this humorous article: Confessions of a Vinyl Addict, Part 1. It's worth a read. It kind of explains how and why I started Jazz Collector.
Anyway, in that article I was lamenting the fact that my addiction to vinyl was getting worse and, as an example, I used Whims of Chambers. I was complaining that I went out and spent $300 for a copy, even though I already owned a copy. Turns out to have been a pretty good investment, wouldn't you think?
BTW, you will notice that the Confessions of a Vinyl Addict, Part 1 was ostensibly the first of a series. I just did a search, and found another set of these, which I had forgotten about. They are pretty good, actually. Start with this one and, if you like it, there are a couple of more installments you can find by searching on Jazz Collector.