Today's Jazz Vinyl: It's a Wrap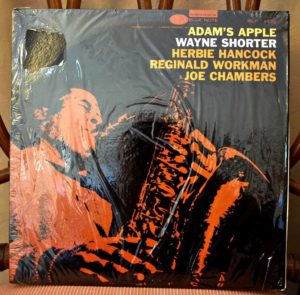 One of our readers sent me a link to this listing from a few weeks ago, using the word "insanity" as a modifier: Wayne Shorter, Adam's Apple, Blue Note 4232. This was a Liberty pressing. It was in VG++ condition for the record and the cover. There was some original shrink wrap on the cover, which perhaps is a big deal for someone. For me, well I just rip it off and throw it in the garbage. Anyway, this record sold for $997.65. That's right, the very cusp of the $1,000 bin. Question: Does anyone recall ever seeing a Liberty Blue Note selling for this amount of money before? I don't.
There must be something about the shrink wrap, or even the loose wrap, that is becoming something of an attraction to collectors. As we had mentioned earlier, we were watching a pair of Jackie McLean Prestige records. One was Jackie's Pal, Prestige 7068. This one had what looked like a shrink wrap, even though the first Prestiges of that era would have had a loose wrap. In any case, when we first posted on that record the bidding was just at $45, which was quite surprising for an original pressing listed in M- condition for the record and VG++ for the cover. The record wound up selling for $610. The other record was Alto Madness, Prestige 7114. This was also an original pressing. It also had a promo stamp and the looser wrap more typical of the era. This one was M- for the record and the cover and the final price was $810.