What's Going on With Jazz Vinyl Prices?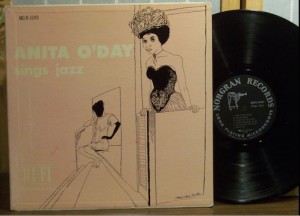 I finally got back onto eBay yesterday and I did a search and came up with a bunch of nice Blue Notes, including a nice copy of Sonny Clark, Cool Struttin', and it was interesting because none of the Blue Notes had any bidders. They all have several days left, so I'm expecting that the action will pick up. The thing that did surprise me was the one record that was getting a lot of action was this one: Anita O'Day Sings Jazz, Norgran 1049. This has the black label so it's not even an original pressing. There are already 10 bids and the price is more than $150. The record is in M- condition and the cover looks to be VG++. I can't quite figure out why the strong interest in this record. Norgrans are not particularly hot, and neither are Anita O'Day records. Any theories?
This one closes in six days, but if someone wants to swoop in and grab it, there is a buy it now price of $2,400: Sonny Clark, Cool Struttin', Blue Note 1588. This looks to be an original pressing listed in Ex condition for both the record and the cover. The start price is $1,400 and so far there are no bidders.
Here's another nice one with no bids:
Booker Ervin, The Book Cooks, Bethlehem 6048. This looks to be an original pressing in M- condition for the record and probably VG+ or VG++ for the cover. The starting price is $390. Are the starting prices for these records too high?