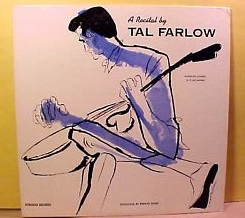 Trying to get off Blue Note a little bit and infuse some variety to our posts. Yesterday we added some Prestige and New Jazz jazz vinyl to the Jazz Collector Price Guide, today let's look at a few from the Norman Granz pantheon.
This one has a very pretty, simple cover design by David Stone Martin: A Recital By Tal Farlow, Norgran 1030. This was an original pressing with the yellow label and the trumpeter logo. The record was listed in M- condition and the cover was VG++. The price was $122.16.
This one also has a nice Stone Martin Cover: Anita O'Day, Collates, Clef 130. This was a 10-inch LP and it was listed in M- condition for both the vinyl and the cover. The price was a very reasonable $82.
Here's another nice 10-inch LP: