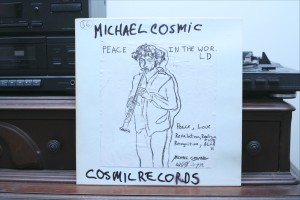 Greetings from the other side of the collectible jazz spectrum. It's been a rather interesting couple of weeks on eBay with some very nice free jazz and avant-garde LPs coming up for auction from a variety of sources; hopefully that continues unabated. First up, and I must say that rarely do we see free jazz records cross into the $2,000 bin, is Peace In The World from reedist-pianist Michael Cosmic. This was an original private pressing from the mid-70s on the Cosmic Records label in what looked to be M- condition for both the record and the cover, closing at $2,025. There are a few different cover variations, all handmade and with different mimeographed, occasionally hand-colored front slicks (my copy is lettered "Cosmic Paradise: Peace in the World). Some are numbered and others are not. In any event, it's a very rare and quite strong album that has attained rather mythical status in certain circles, and this is the highest price I've seen it reach.
Cosmic and his brother Phill Musra (both né Cooper) appeared with Turkish-born drummer on the latter's excellent The Creator Spaces LP in 1974. The same seller also had an example of that record on offer – an original private pressing on the Intex label in M- condition for the record and probably VG+ for the cover, with some flaws in the fragile paste-on slicks. It sold for a cool $475, and (in my opinion) is probably musically the best of the four records they waxed together. I've seen copies with an abstract drawing on the front slick and others with the stock photo of Phill playing the tenor and after talking with Phill, they both seem to have come out around the same time.
That same seller also had a record that I've long been curious about but never actually dropped the needle on – Abdullah Sami Piece of Time, a private pressing on Abdullah Sami Records with a similar look and feel to the Cosmic and Musra. Listed in M- condition for the vinyl and probably about a VG++ on the fragile paste-on cover, it went for a hefty $970.
Among the records I've been after for years and, alas, only have on CD, are the first two Spontaneous Music Ensemble LPs. English records from the mid- to late-60s in their original form, no matter the musical content, have been desirable items for as long as I can remember and the SMEs are no exception. Challenge, their first record, is a bit more straight-ahead in its concept and was issued in a small run on the Eyemark label in 1967, which otherwise seems to have been a home for custom field recordings. This copy was listed as "EX" for the vinyl and "VG+" for the cover, but with the level of staining and wrinkling from moisture I'd be hard pressed to call the cover anything but VG and was more than a little suspect of the LP condition. Someone wasn't, though, and forked over $590 for it.
Their second LP, Karyobin, was issued on Island in 1968 and is more firmly in the "alien bug music" realm (to quote drummer Weasel Walter) that characterized a certain school of UK improvisation throughout the 1970s and '80s. The same seller had a copy listed as "EX" for the vinyl and "VG+" for the cover, which could've been accurate though I assume VG+ all around is probably more likely. Still, it netted $327. A high-volume seller with minimal descriptions, a bunch of negative feedback, and records with worn covers probably kept some people, myself included, from getting into the fray. I'd love M- copies of both records, of course – maybe someday.
Finally, another one I'm glad to have in my collection and feel lucky to have found affordably is this Dutch gem from pianist-clarinetist Kees Hazevoet, Pleasure One, a private pressing on Peace Records from 1970. It's his first LP as a leader and comes in a beautiful, rather psychedelic-looking silkscreened cover. Not for the feint of heart, the music is rather intense. The condition was hard to figure on this copy as it was listed as M- or VG++ visually but play-graded VG- or VG. My copy sounds fine so I think this one must have been a bum pressing. The cover, while missing the back logo decal, still presented well in VG++ condition and sure is vibrant. It went for $345.
Anyway, thanks for reading this far and as always, happy bidding and happier listening!