Any Info on Sun Ra Collectibles?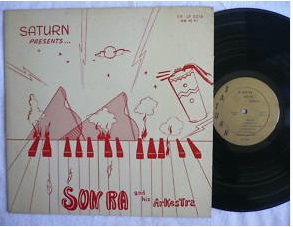 When I was in college back in the 1970s I had a friend who was a huge fan of Sun Ra and was often trying to get me to listen to the Sun Ra Arkestra. I must admit I never did get into the music and thus have no Sun Ra records in my collection nor do I know anything about Sun Ra collectibles, other than the fact that I've seen several of them sell for quite high collectible prices. I bring this up because I am now watching one such item on eBay: Saturn Presents Sun Ra and His Arkestra, Saturn 0216. This is listed as an original pressing in M- condition for both the record and the cover. This record already has been viewed nearly 600 times and
has been bid up to $1,325 with about 5 hours to go before it closes. I guess there are a bunch of Sun Ra fans out there, which leads me to this point: If anyone out there has any information he or she would like to share on Sun Ra jazz vinyl collectibles, please feel free to use this as your forum for that information. You can just comment on this item or, if you want to get particularly bold, you can send us an email at  al@jazzcollector.com and we can post it as a guest column. Meanwhile, we'll keep an eye on this one and add it to the Jazz Collector Price Guide after it closes.