Albert Ayler, Sonny Murray and Coltrane Vinyl on EBay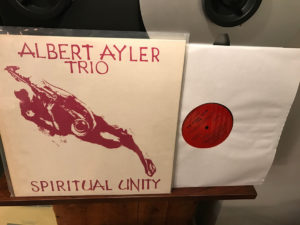 Among the first jazz musicians to really get me excited about this music was Albert Ayler. I have great memories of hearing Bells and Spiritual Unity at the record store where a friend of mine worked back in the mid-1990s. The sound of his saxophone and his ensembles completely rearranged my brain and what I thought music could be. Coming from a perspective that was jazz-curious and a bit tired of the punk/indie landscape, Ayler was exactly the sort of aesthetic catalyst I needed. At one point it seemed like his records were relatively easy to obtain, if not always in their original form, and not necessarily desired by the "big-money" jazz collectors out there.
That's changed somewhat, as seen in this first commercial issue of Spiritual Unity on ESP-Disk' with the red-on-white silkscreened cover, booklet, and alternate take of "Ghosts (Second Variation)." It's a beautiful piece of the recorded history of improvised music, and from what I understand one of the most sonically representative examples of Ayler's sound. For a copy in VG++ condition for the vinyl and VG+ condition for the cover (with what looks like slight damage to the upper left seam), the closing price was $800. Perhaps not Blue Note territory, but expensive nonetheless. I attempted to get in the fray but was quickly dispatched and will have to continue chugging along on a clean second-ish pressing (purchased for around $10 almost 20 years ago).
Another prime early Ayler side and a rare sideman appearance is on drummer Sunny Murray's Sonny 'sTime Now (sic), issued on poet LeRoi Jones' Jihad label in 1965 or '66. Though comparatively easier to find than a first edition Spiritual Unity and with a Japanese pressing circulating as well (which is what I have), it's still an important 1960s jazz collectible. The seller of the Ayler above had one on offer in VG+ or VG++ condition for the vinyl and cover, including the mimeographed insert. The price at the end was $325.
And just for comparison to the recent auction of the test pressing of A Love Supreme, this seller also had an original mono of the iconic Coltrane album in very nice-looking condition, with the LP in VG++ condition and the cover also in probably VG+ or VG++ condition. The end price was $365, or $65 more than the coverless test issue. That's a respectable price, if not top dollar.
As always, happy collecting and happier listening (we need the latter especially right now).